Work Report 2020 - Studierendenwerk Vorderpfalz
"2020 can most easily be summarised in the words of Frank Sinatra: If we can make it there, we'll make it anywhere…."
Andreas Schülke
Foreword
Dear Readers,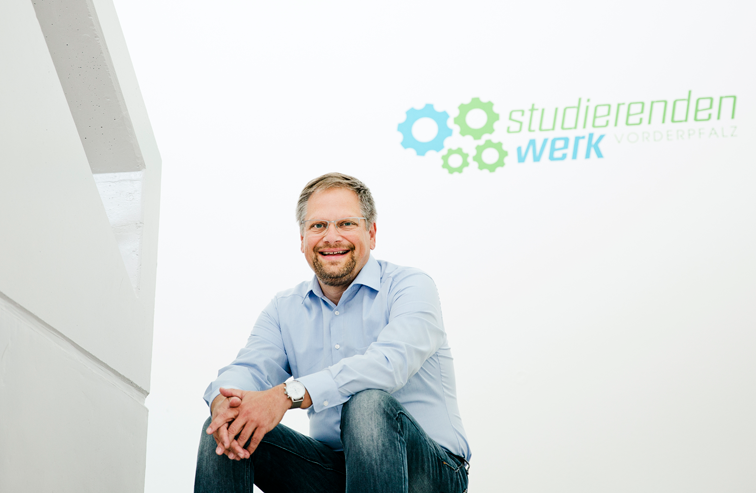 Managing Director Andreas Schülke
it is quite easy to find an introduction to the 2020 business year, it can be described in one sentence: The most difficult year imaginable with disruptions, upheavals, losses and restrictions that one could never have pictured at the beginning of last year.
In my own professional life, this will certainly be a year that I will remember for a very long time. We can only hope that the pandemic and its immediate impacts will end soon.An extraordinary year also requires an extraordinary business report. There is no real comparability to other years anyway, so let's focus on how we navigated the Studierendenwerk through this special time. My most important observation from the financial year is that true character is revealed in crisis. And I can proudly say: the Studierendenwerk can also handle crisis. Of course, the year has also left its mark on us. That was unavoidable. I am most sorry that we had no other choice but not to renew the contracts of 51 of our colleagues, and all the colleagues who are hoping for better days at home on short-time work are still waiting for positive outlooks. These were bitter decisions and even slogans of perseverance eventually wear out.
But on the other hand, I could always rely on all my colleagues to keep the Studierendenwerk going and to continue well beyond their own limits, even in uncertain times. This is not something that can be taken for granted and, in view of the difficult situation, cannot be valued highly enough.Without government support - especially the short-time allowance paid during the pandemic - the Studierendenwerk would sooner or later have gotten into financial turmoil.
But as we all know, one is supposed to emerge stronger from a crisis when it has been overcome, and I can say that we have. We have thought extensively about the future role of the Studierendenwerk and have worked a lot on adapting our services to a possible changed time after the pandemic. I am very grateful that this financial year, despite all the adversities, leaves me with a positive feeling, knowing that we are flexible, innovative and stress-resistant enough to survive even the most difficult times. Problems did not become dead ends, but could always be managed with creative ideas and extraordinary commitment.
Unfortunately, I cannot give crisis communication such a good report card in external relations. We - both my team and I - had to spend a lot of time and energy explaining the lack of support for the employees to our worried staff. This caused a lot of uncertainty during the crisis and could certainly have been done better through objective communication at eye level. It is very understandable that the employees expressed their displeasure and concern in demonstrations together with the AStA and the staff council.I would like to thank you for the extensive solidarity we have experienced. Especially through the AStA in Landau, but also many university groups, the Staff Council and of course our Administrative Council have stood by us.With that in mind, I promise an extraordinary read and look forward to all of us meeting in person again soon. Because nothing replaces human contact and even studying is nothing without meeting others. Even digital studies can't fully replace that in the long run. And because - according to the principle 'crisis equals opportunity' - one should be innovative during a crisis, this is our first work report to appear as a microsite. From now on, you will always receive our current work reports in German and English at
werkbericht.stw-vp.de
. I hope you enjoy reading this latest edition and I will of course be happy to answer any questions you may have about the work report.
Yours, Andreas Schülke
Managing Director Studierendenwerk